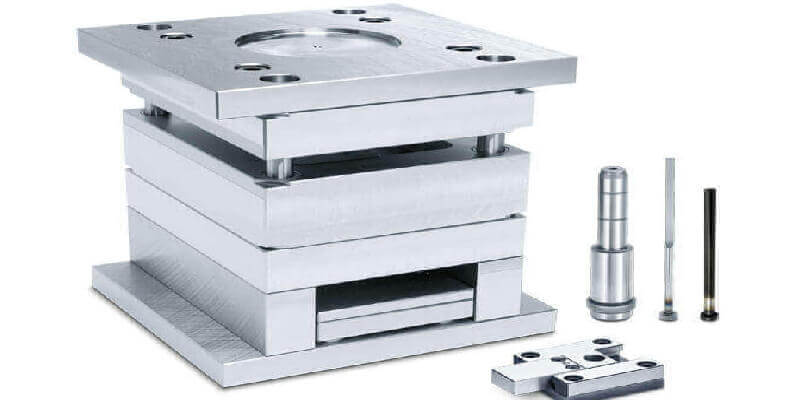 Precious Enterprises- We are one of the well-known manufacturers & suppliers of Mould Base in Pune. Being one of the most renowned manufacturers and exporter of mould base, die sets, & dies, we aim to be a leader in precision mould base manufacturing in India in general and Pune in particular. Typically Mould bases are mostly used in prototype moulding and short-runs. These moulds offer the flexibility to perform more valuable work and provide a significant decrease in the effective cost for mould base.
Inside a single plastic injection moulding machine, a mould base is used to safely amount a mould, which plays an important role in the sequential clamping, injection, and ejection process. On the frontal portion of the mould base, a plate for support holds the mould cavity in position. The rear portion belonging to the mould base is made of a mould ejection system, that helps to attach to the mould core from within and a plate for support externally.
Our manufacturing process is based solely on the needs and requirements of our valuable customers. It is therefore focused on supplying top quality mould bases for plastic. Providing a wide gamut of mould base for die casting, and dies according to the application and specifications of our clients, we ensure that our top-most priority remains in manufacturing the best quality products. Strict quality checks, advanced testing system, and many other inspection systems are enabled at each and every level of production, to promise flawless products, which is right from the sourcing of raw substances to the ultimate stage of production. Therefore, we are offering our customers as one of the most remarkable quality serves as Mould Base Maker in Pune.
The workforce we possess in our company is the team of committed and persevering experts who understand the importance of their work and value their esteemed customers and their needs and specifications. Both of our manufacturing units which we possess are perfect and designed to maintain a healthy work environment for employees and employers. Strictly going by the Govt. Norms and regulations, our Industry is furnished with quality of art manufacturing facilities. Thus, we have all the modern accessories needed for manufacturing the perfect mould base making us the best Mould Base Makers in Pune. We are consistently trying to achieve our goal and ensure maximum customer satisfaction. Our main motto is to achieve an astonishing success in the history of the Industry and build the brand like image of the company.
The traditional trends in the market for mould base accessories employed in plastic injection moulding are evolving. Mould Base Makers are producing rapidly increasing varieties of short-run products in all range of various sizes, shapes, and finishing where each of the needs a custom-made mould base. As, Precious Enterprises, we are ramping up our production exponentially to meet rapidly growing customer requirements. We are moving ahead with our Mould Base that is capable of changing the trends of the lifestyles.